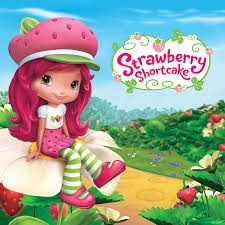 Strawberry Shortcake's Berry Bitty Adventures is the 2009 relaunch of Strawberry Shortcake featuring the voice of Anna Cummer as the title character and it is the remake of the previous Strawberry Shortcake series. The series, produced by MoonScoop Group, Cookie Jar Entertainment, and American Greetings, follows the adventures of Strawberry and her friends who live in Berry Bitty City. It is the third iteration of the franchise overall, following the original 1980's version, and the 2003 relaunch. There have been three DVD "movies" released by 20th Century Fox, as well as a toyline made by Hasbro. Both are known as simply "Strawberry Shortcake". It features songs with music by Mark Sayer-Wade and Andy Street and lyrics by Judy Rothman.
Characters
Edit
Strawberry Shortcake - the main character; a chef and owner of the popular Berry Bitty Café. She has red hair, wears a white and pink dress with green and white striped pantyhose, red mary janes, and a strawberry hat, with a pink flower clip underneath. She is confident, considerate, optimistic, thoughtful, resourceful, enthusiastic and full of ideas. She is voiced by Anna Cummer while Tracey Moore provides her singing voice.
Orange Blossom - a store manager and owner of Orange Mart. She has dark brown hair, wears an orange dress with tangerine and white striped leggings, orange boots, and a camille flower clip with an orange in the center. She is clever, energetic, ingenious, sporty, adventurous, caring and always ready to lend a hand. She is voiced by Janyse Jaud.
Lemon Meringue - a hairstylist and owner of the Lemon Salon. She has blonde hair, wears a yellow tunic, a blue pleated skirt with yellow and white striped leggings, yellow mary janes, and a lemon slice clip. She is creative, stylish, girly and a quick-thinker who can fix any hair problem, such as a bad hair day. She is voiced by Andrea Libman.
Blueberry Muffin - a bookworm and owner of Blueberry Books. She has blue hair, wears a dark blue sweater (in the TV show, her cardigan is a lighter shade of blue) over a light blue shirt, a dark blue skirt with emerald and white striped pantyhose, dark blue slip-ons, and a headband with a blueberry on it. She is smart, intelligent, diligent and is quick to think about a problem first. She is voiced by Britt McKillip.
Raspberry Torte - a fashionista and owner of Fresh Fashions Boutique. She has pink hair, wears a short purple cardigan over a pink and green long-sleeved dress, pink and white striped leggings, purple mary janes with a lavender strap, a raspberry bracelet, and a headband with a raspberry on it. She is fashionable, friendly, polite and cares a lot about her fashions as much as her friends. She is voiced by Ingrid Nilson.
Plum Pudding - a dancer and owner of the Sweet Beats Studio. She has purple hair in a ponytail worn with a plum clip, a blue-violet cardigan over a light purple and aqua dance dress, mint green and white striped pantyhose (in the TV show, one of her stripe patterns is light purple), and purple ballet slippers with blue-violet legwarmers. She is active, charming, quirky, humorous, kind-hearted, agile and believes there's something to dance about. She is voiced by Ashleigh Ball.
Cherry Jam - a pop superstar and music teacher. She has dark purple hair, wears a pink dress with purple dots inside and a flower with a cherry hanging down, purple and violet striped leggings, red flats, and a headband with the same flower as an extension clip. She was once seen carrying a microphone with her and sometimes duets with Strawberry and friends. She is voiced by Shannon Chan-Kent while Victoria Duffield provides her singing voice.
Huckleberry Pie - The owner of a pet adoption service, he drives from town to town in Huck's Pup Mobile getting dogs adopted, and has an animal shelter in Berry Big City. He has light brown hair, wears a dark blue t-shirt with a picture of Huckleberries on it over a green and white striped long-sleeved shirt, light brown pants, and dark blue shoes. He is voiced by Aidan Drummond.
Pupcake-A friendly little pup that loves to tag along with Strawberry and Co. Much like Custard he is very nice and kind to others.
An affectionate little dog who loves to go on adventures!
Custard-Custard is the adorable little kitten belonging to Strawberry Shortcake. She's cute, cuddly, and super friendly!
Its unknown when or how Strawberry got Custard but this little kitty is her best friend, maybe even more-so then the others. Custard makes many more appearences then Pupcake but sometimes only Pupcake will appear.
As of Season 3, Custard's appearances have been lessening after the first couple of episodes.
Ad blocker interference detected!
Wikia is a free-to-use site that makes money from advertising. We have a modified experience for viewers using ad blockers

Wikia is not accessible if you've made further modifications. Remove the custom ad blocker rule(s) and the page will load as expected.