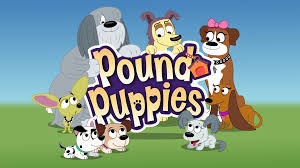 Pound Puppies is a Canadian-American flash animated show produced by Hasbro Studios, with animation done by DHX Media/Vancouver. It was created by Paul Germain and Joe Ansolabehere, creators of Disney's Recess, along with Wendy Moss Klein and Nancy Steingard. It premiered on October 10, 2010 on the Hub Television Network, a joint venture between Hasbro, Inc. and Discovery Communications. The Pound Puppies are a secret organization, hidden from humans, devoted to finding stray pups their perfect home. The show revolves around five Pound Puppies of Shelter 17, Lucky, Cookie, Squirt, Niblet and Strudel. The leader, second-in-command, not-so-reformed criminal, lovable oaf and genius respectively, it is their job to make sure that any pup who arrives at their pound finds a home, no matter what. Pound Puppies features the the voice talents of Eric McCormack, Yvette Nicole Brown, Michael Rapaport, John DiMaggio, Alanna Ubach, René Auberjonois, and M. Emmet Walsh. Brooke Goldner, Cree Summer, and Jessica DiCicco play recurring characters Rebound, Cupcake, and Patches. Betty White is also heard as recurring character Agatha McLeish.
The Pound Puppies are a group of dogs who spend most of their time at Shelter 17. Together with a group of squirrels, they operate a secret and highly sophisticated underground facility beneath the pound, aimed at finding puppies or even grown up dogs owners. They rely on their motto, "A pup for every person, and a person for every pup". Although the facility is filled with advanced equipment and is often shown bustling with activity, it consistently manages to avoid detection by the pound's human staff.[6] A recurring plot often involves the Pound Puppies helping dogs find loving homes and coming across various challenges as they do so. Once a dog is successfully matched with a new owner, the Pound Puppies give him/her a dog tag shaped like a dog house as a parting gift.
Ad blocker interference detected!
Wikia is a free-to-use site that makes money from advertising. We have a modified experience for viewers using ad blockers

Wikia is not accessible if you've made further modifications. Remove the custom ad blocker rule(s) and the page will load as expected.